Speaking The Same Language
By Leanne Anderson-DeMattei, CCAM, CMCA, AMS, PCAM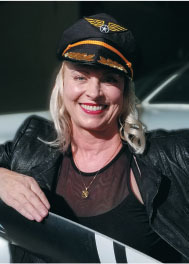 THE WEATHER CLEARED up enough to fly for a few hours and all pilots desperate for air time fired up their engines and tried to get off the planet. I was practicing short field and soft field landings, no flap landings, slip landings, short approach landings and power off landings at Livermore Airport. The airways were crazy busy that day. (Livermore is the training airport for Oakland and San Francisco air traffic controllers, and there was a new controller on the radio that day for the longer runway.) I was on short approach for my third landing when he gave the go-ahead for a Cessna on the ground for an immediate departure on the same runway. I keyed the radio to advise the air traffic controller that I was on short approach and I confirmed that I was still cleared to land. The air traffic controller calmly asked the Cessna to hold short and then he confirmed my landing status, "cleared to land number one." A little later, the same air traffic controller cleared me to land number six. That means there were five aircraft moving at various speeds coming from different directions ahead of me that needed to land without incident and taxi off the runway before it was my turn to land. I had never heard "cleared to land number six." It is quite common to hear cleared to land number one, two or three. But six? This new controller was calm even with the bombardment of aircraft; he didn't give up, and no other controller took over for him even under the very stressful circumstances.
It struck me how well the new controller handled such a busy day and how speaking the same aviation language enabled us to immediately work well together. Our mutual success was dependent on the success of the other. Speaking the same language of aviation gave us an immediate understanding of each other and common background that enabled us to work together easily. We understood the protocol, we understood the verbiage and we understood the dynamics of the environment. My success as a pilot that day was to have fun, build my flight time, live to fly another day, continue to learn and, most importantly, not damage my plane. His success was to keep the airways safe, gain more knowledge working in the dynamic airport real-time environment and gain experience in order to move on to Oakland or San Francisco airports.
As members of CAI, we speak a common association management language. Whether you are a board member, manager, business partner, executive director or member of the national team, we all speak the CAI association language and our success is dependent on the success of each other and the success of the organization.
The first annual committee and subcommittee chair special meeting was held in February to collaborate on 2019 goals. There were about 30 members in attendance, consisting of the CAI board of directors, committee and sub-committee chairs, and the executive director and assistant executive director. The committee goals for 2019 are to revamp the committee charters to improve consistency and detail a succession plan, improve the event announcement script to include more speakers for the sake of variety and, hopefully, entertainment, and leverage the role of the board liaison for each committee.
When looking around the table at all of the members who carved out a good chunk of their day in order to participate in this first annual event, I was very proud to be sitting at the table with such a dedicated group of smart, talented, giving and fun fellow members.
Fellow CAI members and future CAI members, you are cleared to land number seven. What landing are you working on today?
Blue Skies and Tailwinds, Leanne Anderson-DeMattei